Saké events and activations are innovative and unique. Meticulously planned for maximum effect, each brings a taste of Japanese culture and culinary skill to a bespoke setting with a fun atmosphere. View our upcoming events below.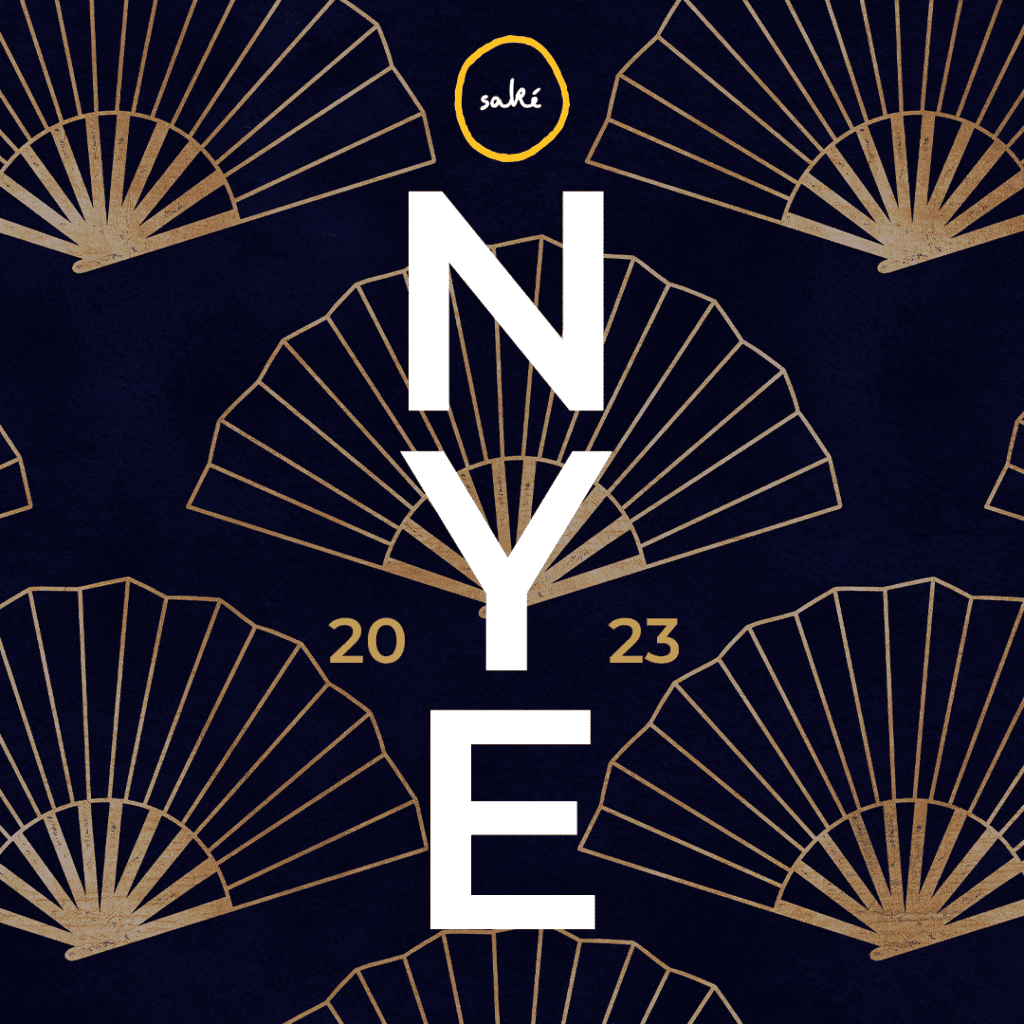 Blink, and it will be the biggest night of 2023: New Year's Eve. Book soon, so you don't miss out! 

We have a la carte menus and a special NYE set menu available at each Saké restaurant for the evening.
The NYE set menu is $139 per person. It's the only set menu available for the evening. A minimum spend of $139 per person is required for the second seating, from 8pm onwards. 
10% Sunday surcharge, or 10% surcharge for groups of 6+ guests applies.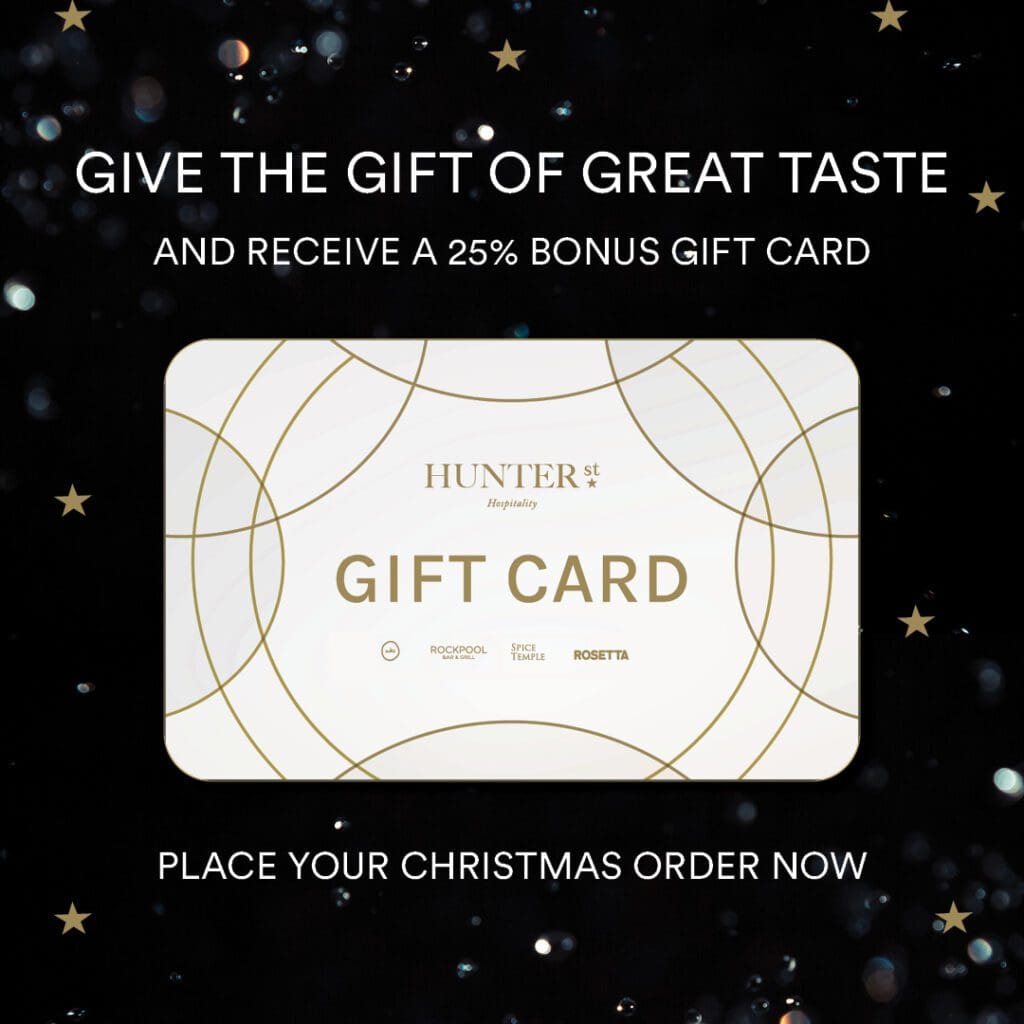 How To Earn Bonus Gift Cards
Give the gift of great taste this Christmas with a Hunter St. Hospitality gift card and you will receive a bonus gift card worth 25% of the value of the card you bought. Bonus gift cards will be emailed on January 4th. 


Our gift cards are available as physical or digital cards and can be redeemed at Rockpool Bar & Grill, Spice Temple, Rosetta Ristorante, and Saké Restaurant & Bar

Physical cards can be bought in venue, digital cards can be ordered online and are delivered immediately to a nominated email address.

Order A Digital Card
If you wish to place a bulk order please email giftcard@pacifichunter.com.au.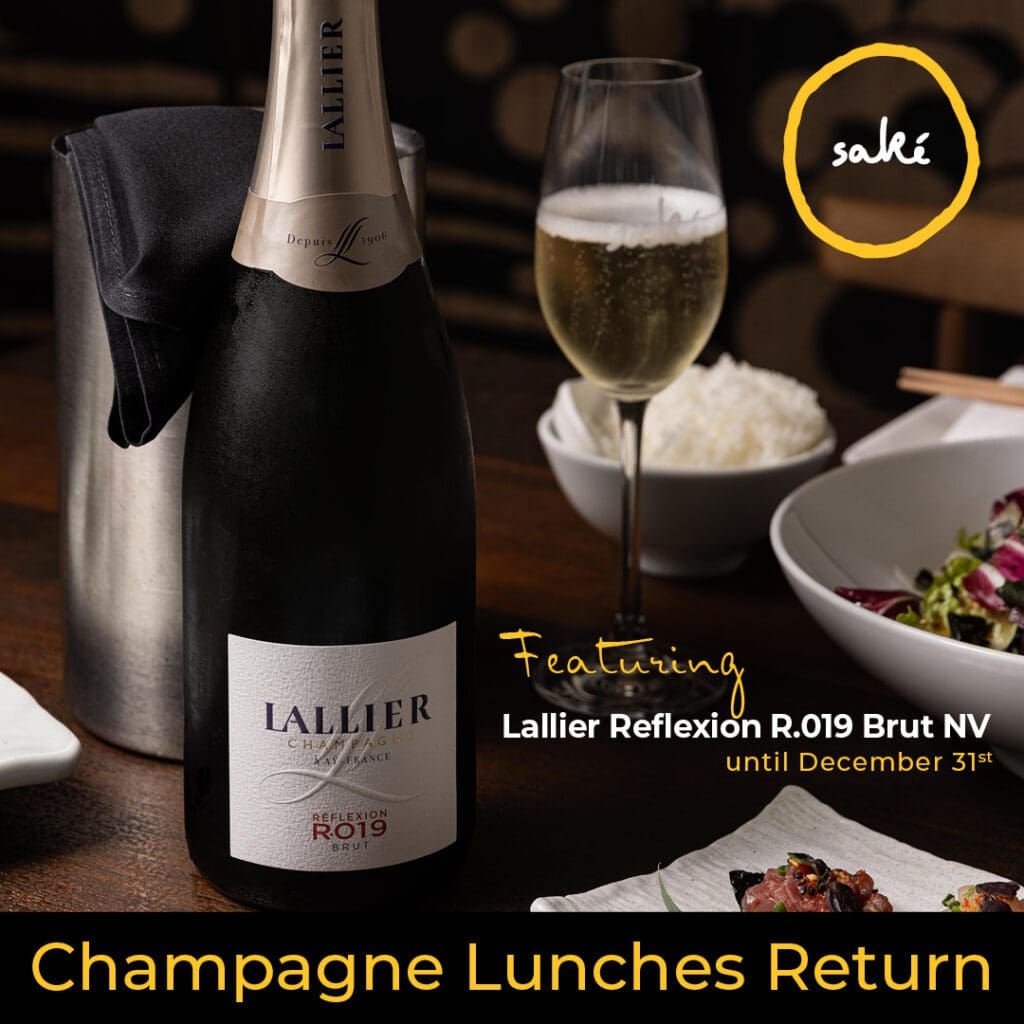 All Venues
Our elegant Champagne lunches are back at all Saké restaurants as we head into the warmer months and festive season.
Enjoy a 90-minute Lallier Champagne package, featuring Lallier Reflexion R.019 Brut NV, accompanied by contemporary Japanese dishes.
Available:
All venues. Until Sunday 31st December.
 Daily for lunch, when open.

For groups of four to eight guests. 
$149 per person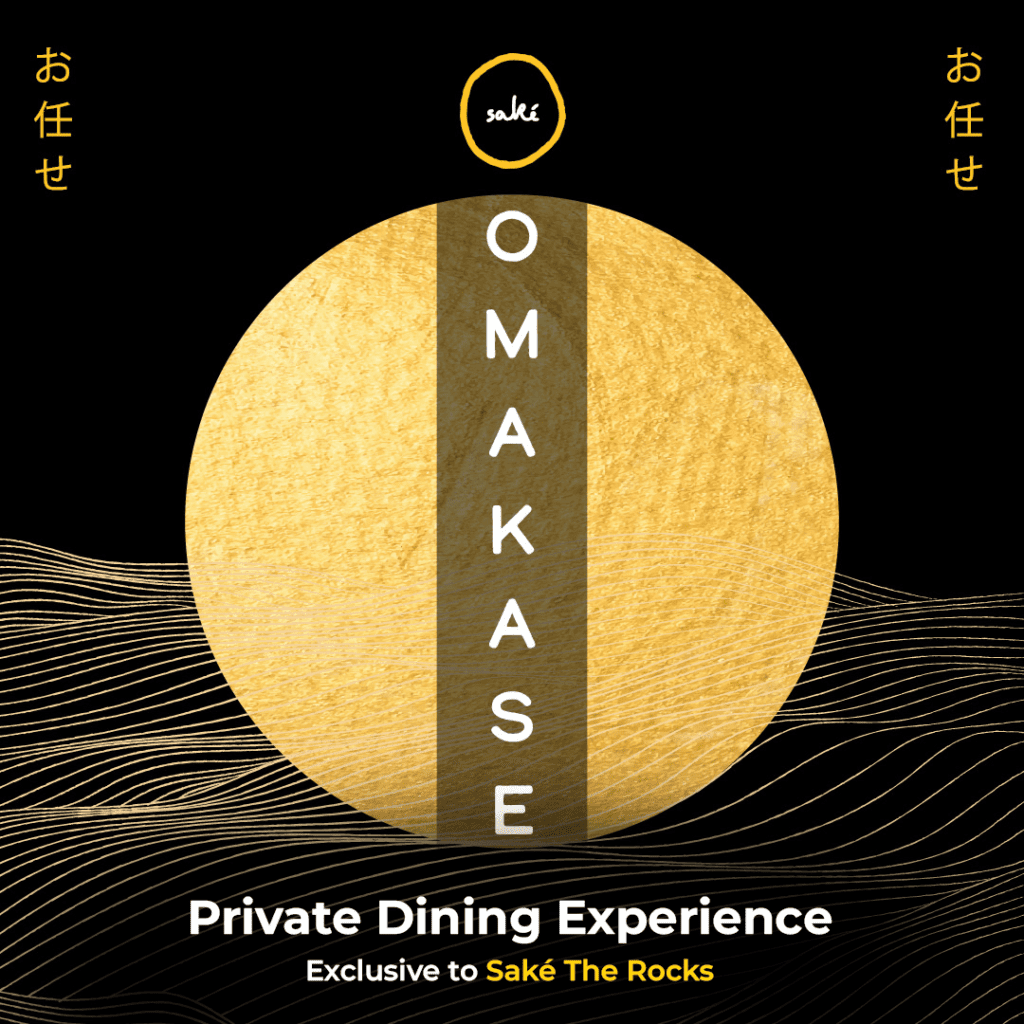 Elevated Omakase Experience
Saké  The Rocks
Elevate your next private dining experience with an intimate Omakase degustation, available exclusively at Saké The Rocks. 
Relax under the skilled craftmanship of Japanese Chef Shimpei Hatanaka, who will personally curate a menu of seven exquisite courses – over twenty delicious items – as guests watch the beautiful evolution of the menu from their private chef's communal table. 
Available:
Wednesday & Thursday 
Lunch 1pm $2,500 Minimum Spend
Dinner 6pm $3,000 Minimum Spend 
$329 per person, including beverage pairing.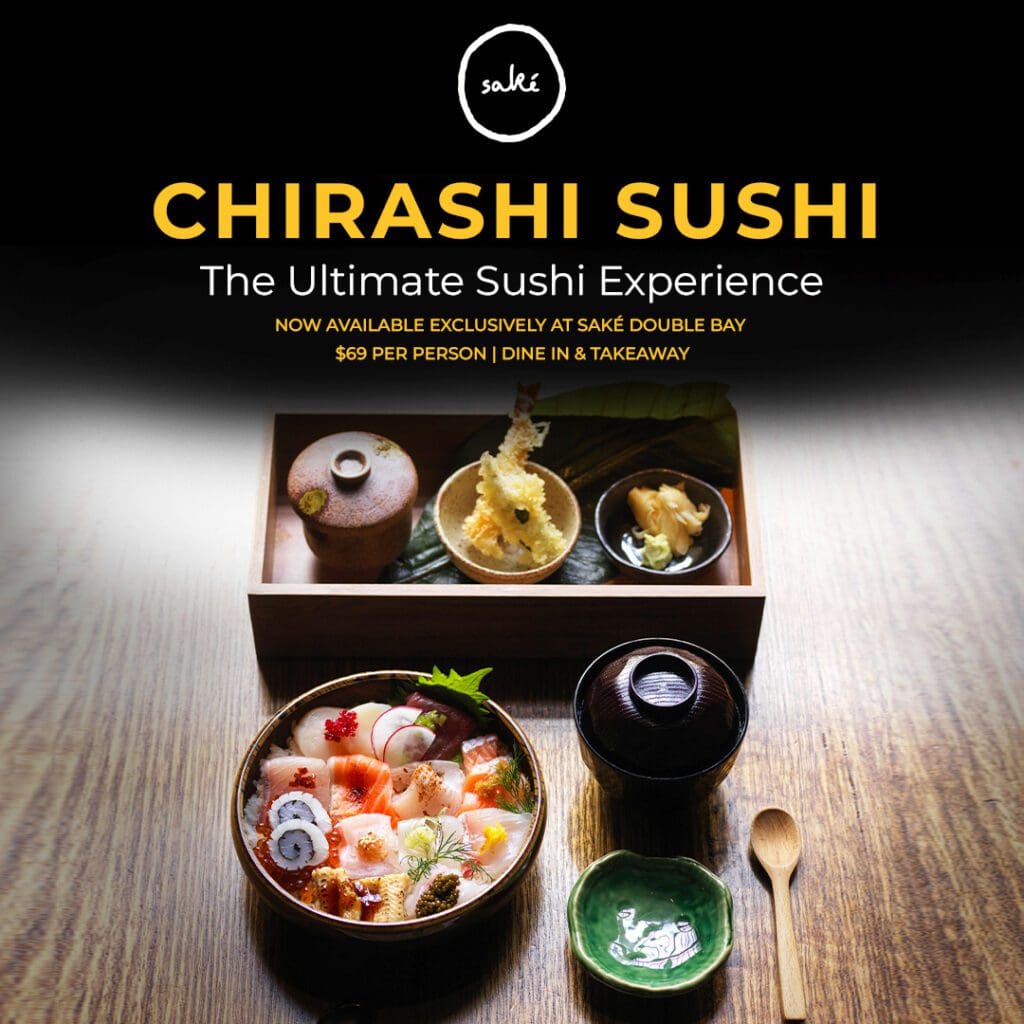 Introducing New Chirashi Sushi
Saké Double Bay
Indulge in a bespoke Chirashi Sushi experience at Saké Double Bay.  
Beautifully presented in a gorgeous bowl, a bed of warm, seasoned sushi rice is topped with an artistic arrangement of 13 incredible seafood ingredients, each crowned with a flavour burst of garnish.
Each Chirashi bowl is accompanied with fresh Tasmanian wasabi and pickled ginger, house-made miso soup, a portion of Chawanmushi and Seafood Tempura. 
Available at Saké Double Bay  
Lunch and dinner, daily.
$69 per person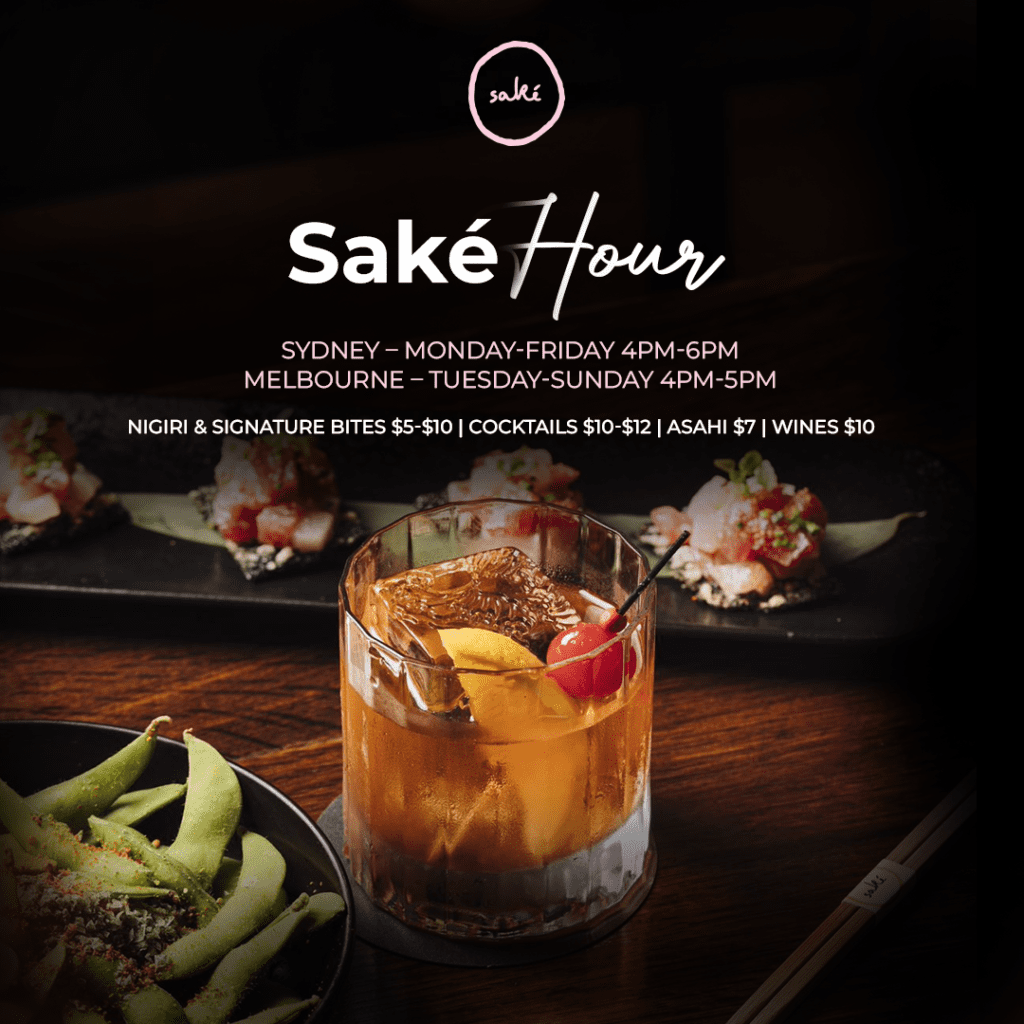 All Venues
Introducing our unique spin on the happiest hour of the day! 
Menu highlights include: 
$5-$10 signature bites
$10-$12 select cocktails
$10 select wines
$7 Asahi
SYDNEY
Monday-Friday, 4pm-6pm 
MELBOURNE
Tuesday-Sunday, 4pm-5pm
Available exclusively at the bar in each location. No bookings are taken. Walk-ins welcome.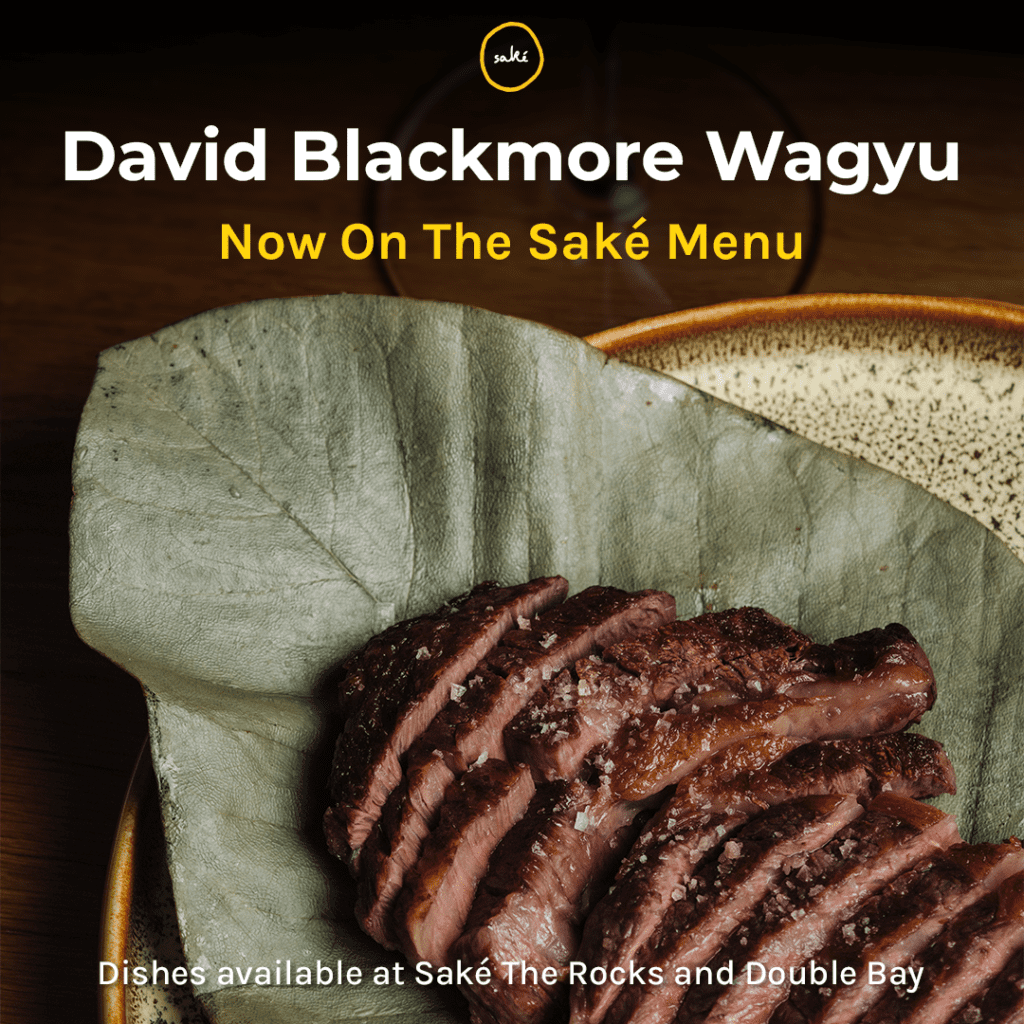 Saké The Rocks
Saké  Double Bay
David Blackmore Wagyu is now on the menu.  Enjoy the following dishes:
Saké The Rocks
250g Blackmore Wagyu Scotch Fillet, MB9+, with Yakiniku Sauce and Oroshi Ponzu
Saké Double Bay
Blackmore Wagyu Skewers with Sesame Glaze & Shishito Pepper
Hay-smoked Blackmore Wagyu Taco with Miso Dressing, Umeboshi and Karasumi.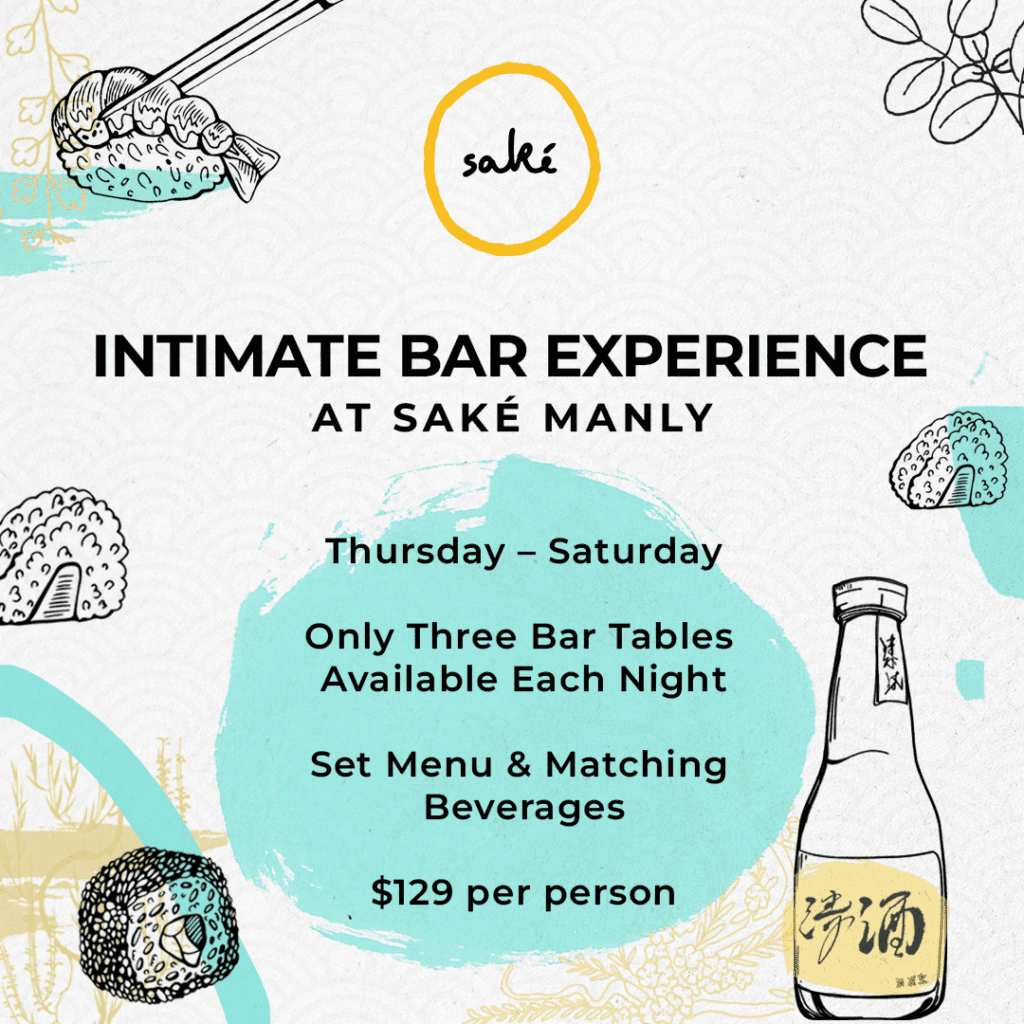 Saké Manly 

Enioy an intimate, elevated and extended bar experience.
Explore a special set menu, showcasing our signature dishes, with premium beverage pairings.
Designed as an immersive experience, there are just three bar tables available every Thursday to Saturday, for solo or pairs of diners.
An unrestricted dining period is available.
Bookings are recommended.
Don't see any events listed? Sign up for our email newsletter to learn about our upcoming events.